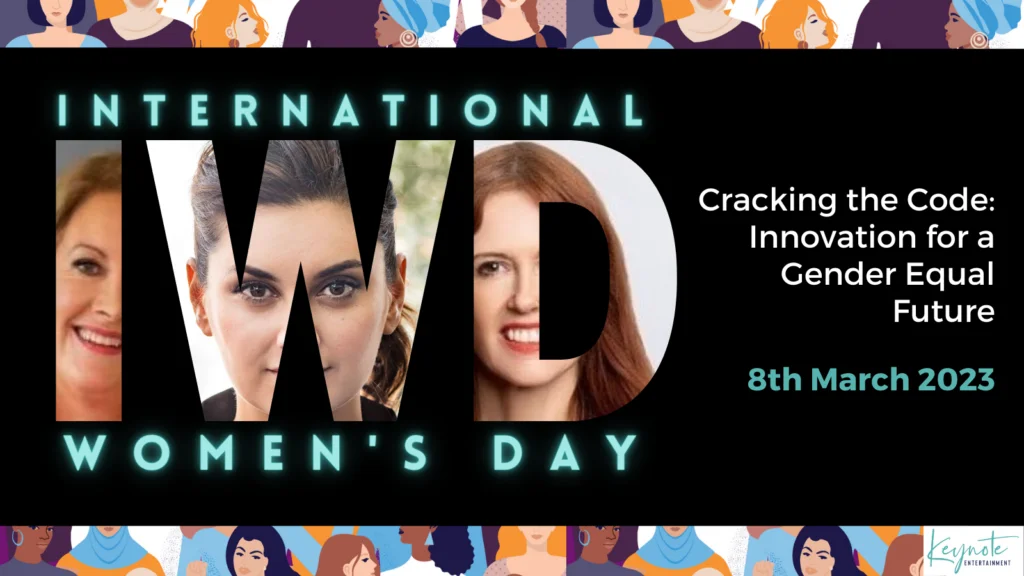 On 8th March 2023 we celebrate International Women's Day (IWD), highlighting the vital role innovation plays in our efforts to #crackthecode for gender equality.
Bold, innovative ideas and inclusive access to digital technologies and education. That's what it will take to improve education outcomes for marginalised women, close the digital divide and help combat discrimination.
Thankfully, many remarkable women around the world are using their skills and knowledge in science, technology, engineering and mathematics (STEM) to help make it happen.
International Women's Day 2023 celebrates the female changemakers harnessing the transformative power of innovation to #crackthecode for gender equality. To break down barriers and create new social, economic and cultural codes that will pave the way for future generations.
Let us connect you with some of these women. Their empowering stories of resilience and determination, and their unwavering commitment to cracking the code, are guaranteed to inspire and captivate.
Planning for your International Women's Day event starts now!
Rae Johnston
Rae is a multi-award-winning STEM journalist and leading commentator on all things science, technology, video games and geek culture. A proud Wiradjuri woman, Rae is passionate about Indigenous Science – a topic she promotes as a member of the STREAMS Network and explores as host of NITV's children's series 'Rewired'. A part of the prestigious 'brains trust' Leonardos group for The Science Gallery Melbourne, Rae is also a mentor for Science Media Centre Australia's Indigenous Science program and the Superstars of STEM.
Kate Raynes-Goldie
Kate is a multi-award-winning play-based strategist and world-renowned researcher, futurist and innovation columnist who has been teaching, researching and writing about emerging trends in technology and culture since 2002. As a SheEO Activator, Kate also helps empower female entrepreneurs by investing in women-led ventures that focus on solving social issues. This radically generous global community was designed to support women and ultimately create a perpetual fund supporting female-led ventures for generations to come.
Mia Freedman
Mia is co-founder of the Mamamia Women's Media Company, and one of Australia's best-known digital entrepreneurs. Mamamia has an audience of more than 10 million women every month, and with over 200 million downloads and more than 50 different podcasts, is the largest women's podcast network in the world. With a core purpose of making the world a better place for women and girls, Mia is also the founder of Lady Startup, helping female-founded small businesses launch and grow through online courses, podcasts and social media.
Rhian Allen
Rhian is an entrepreneur, influencer and founder of the multi-million-dollar business, The Healthy Mummy. What started as an e-commerce business in 2010, grew into the biggest and fastest-growing mums-only health and weight loss company worldwide. Reaching $24m turnover with a community of over 1.5 million mums by 2017, Rhian created a fitness app used by over 100,000 mums, a Wellness app and website, launched a beauty range, a frozen food delivery service, a range of health food products and supplements and published 2 best-selling books.
Dr. Catriona Wallace
As founder of one of the first Artificial Intelligence companies to list on the Australian Securities Exchange, Catriona is one of the rare women leaders in advanced technology. An expert in the field of Artificial Intelligence and the Metaverse, Catriona is an Adjunct Professor and Founder of the Responsible Metaverse Alliance, as well as co-author of the book 'Checkmate Humanity: the how and why of Responsible AI'. She is universally recognised as one of the top AI speakers and Metaverse commentators in the world.
Jamila Rizvi
Jamila Rizvi is a best-selling author, media personality, podcast presenter and gender equality advocate. As Deputy Managing Director of Future Women, a digital community dedicated to helping women learn, connect and lead, Jamila works with employers to build diverse, equitable and inclusive workplaces. She also hosts the Future Women podcast and is a well-known media commentator, with regular appearances on TV programs such as 'The Project', 'Today' and 'The Drum'.
Elizabeth Broderick AO
As Australia's longest-serving Sex Discrimination Commissioner and respected United Nations adviser, Elizabeth has worked tirelessly to break down structural and social barriers faced by women and to promote gender equality. Globally recognised as a leader and social innovator, Elizabeth is Global Co-Chair of the Women's Empowerment Principles Leadership Group, a member of the World Bank's Advisory Council on Gender and Development and Partner Co-Director with NATO on Women, Peace and Security. She is also an Honorary Fellow of the Australian Academy of Technology and Engineering and a recipient of two honorary doctorates of law.

International Women's Day is always one of our most popular event themes, so make sure you get in touch with us early to secure your speaker of choice – our team is standing by to help!