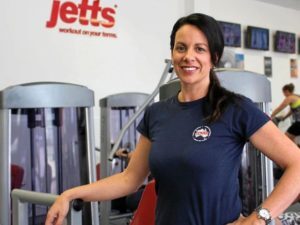 Recently winning the 2017 Outstanding Business Woman of the Year at the Sunshine Coast Business Women's Network awards, Elaine credits her win to hard work, passion and determination. She understands what it takes to raise a business to the next level and aims to teach other companies how.
An impeccable motivational speaker, Elaine Jobson openly and honestly discusses her own experiences.
Now CEO of Jetts Australia, she works hard to help others not only change their fitness levels but also their business level.
Elaine has worked within an executive role in the fitness industry for over 23 years and has travelled to some incredible places due to her position.
During her career, she has raised a small business off the ground and worked within large companies, giving her the expertise in all things business and proving that determination can lead to success.
She also focusses on investing in employees and making the workplace a great place to be, thereby improving work ethics and commitment to a company.
Her presentations are engaging and informative, leaving audiences with relatable and applicable tools they can use in their own career. She encourages individuals to find the weakness in their company and figure out a solution that will improve business.
Specialising in corporate culture, leadership, sales and marketing, Elaine Jobson motivates any company to improve and achieve greatness.