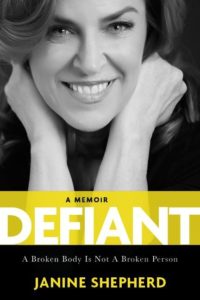 Janine Shepherd is a fantastic Motivational and inspirational speaker and has recently become a published author.
Her new memoir 'Defiant:  chronicles her life experiences when she faced unexpected tragedy.
An incredible athlete since a young age, Janine was training for the 1988 Winter Olympics in the ski racing events. Unfortunately, during a routine bicycle ride, Janine was hit by a truck. Her parents were told not to expect her to survive. Shepherd's impeccable mental and physical strength assisted in her recovering from her shocking injuries. She details her life journey as she travels from devastating lows to incredible highs.
From being encased in an entire body cast to gaining her commercial pilots and instructors license, and moving forward to become the youngest and only female director of Australia's Civil Aviation Safety Authority, Shepherd's book is inspirational and encourages readers to reach even further then their perceived limits.
Combined with her signature humour, personality and honesty, 'Defiant' demonstrates the importance of goal setting, acceptance and resilience.
During a turbulent time in her life, Janine came out on top and overcame both mental and physical barriers to achieve what she desired.
Keynote Entertainment have a limited number of copies 'Defiant' to give away. For a chance to secure your copy, please email justin@keynote.net.au