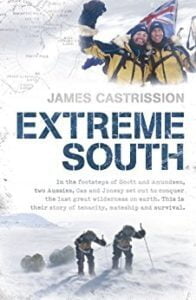 James Castrission is the author of 'Extreme South' incredible story of his adventure with friend Justin Jones. James is an inspirational motivational speaker who uses his first-hand experiences to encourage and inspire his audience. Using his unique stories of adventure, James motivates his audience to embrace life and not let anything hold them back.
In 2011, James and Justin set out on a challenging expedition. They planned to trek across Antarctica to the South Pole. A feat which had been attempted before but never accomplished.
James and Justin finished the 2275-kilometre journey, completing the enormous trek in 89 days. Throughout the adventure, they had to motivate not only each other but themselves. The boys suffered setbacks, hardships and had to overcome their own fears and worries to achieve a childhood dream they shared.
James speaks passionately and cohesively to produce a presentation that resonates with audiences and leaves them feeling motivated long after the conclusion. His speeches often include incredible footage and images that help convey clear messages of resilience and will-power.
Regardless of the audience demographic, James will motivate them to push themselves further than they believe they can. He encourages audience members to overcome their fears and achieve whatever they desire.
James is perfect for your event and is a fantastic presenter in whatever speaking role you desire including; opening or closing an event, motivational speeches and after-dinner speeches.
In 2012, James released his book 'Extreme South'. The novel details his journey through the south of the globe and includes his preparations, the physical and mental challenges and what motivated him to keep going when times became tough. We have a limited amount of these books to give away, please email info@keynote.net.au for chance to receive a copy.
Planning a corporate event? View our extensive range of motivational speakers.