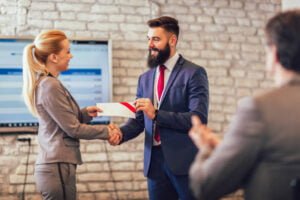 A pattern that emerged in the second half of this year were an increase in organisations award events online.
As Covid continued to keep its grip on us this year, companies started to realise there is not going to be a chance to all get together to celebrate each other's achievements.
Smart companies realised that they still have to run their award ceremonies to acknowledge their employees hard work and to make sure they don't add to people's disappointment in 2020.
We witnessed some clever ideas such as sending hampers to the team to enjoy the food and wine they would have at a fancy event.
But the greatest evolution was the use of a professional studios to broadcast the event. This was by far and away the best use of their event budget. A professional studio will not only provide you with a broadcast quality presentation, but they have a team of producers there to deliver seamless transitions between presenters, keynote speakers and awards recipients.
Another important use of the event budget, was the use of a professional Master of Ceremonies or host. Remote presentations can have some challenges and using an experienced MC will definitely make a difference if you experience any difficulties. Televisions Hosts and Comedians have been a saviour to many events, a TV host is accustomed to switching the run order if a guest is not available or a comedian can fill until things are back on track. We have witnessed some high profile TV hosts and comedians we have placed into events save the day more than once this year.
We may be up and down for a while when it comes to restricted numbers in venues however, we need to keep in mind and keep focus on those delivering our business services.  Staff must continue to be recognized, acknowledged and supported and keeping momentum through Company Awards is a great way to show company appreciation and stimulate morale.