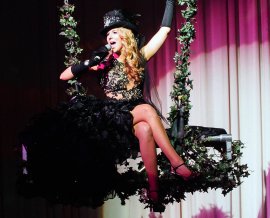 Travels From New South Wales
Toni Bird is 'Miss Bird Sings'.
Wowing audiences with a show stopping performance from start to finish. Suspended in mid-air or staged in an intimate, stylish area within the audience 'Miss Bird Sings' will tantalise and delight your audience. Think Dita Von Teese, Shirley Bassey, Marilyn Monroe, Moulin Rouge and then combine with today's glamour girls – Kylie, Beyoncé and Rihanna. Miss Bird Sings is sophisticated, engaging and experienced. Making your event a night to remember, Miss Bird Sings will deliver an exquisite performance.
Miss Bird Sings is the ultimate chanteuse! Incredibly Talented! Graceful and Confident!