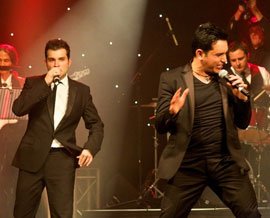 Travels From New South Wales
Ricky Martin vs Michael Buble
Swingin La Vida Loca combines some of the world's most recognised entertainers, bringing them to life with an engaging and interactive on-stage performance.
Featuring three artists and performers with an optional full band and dancers, Swingin La Vida Loca showcases what unfolds when the world of Latin Pop collides with the Kings of Swing and an Amazonian goddess from Brazil.
With incredible musical tunes including Samba, Salsa, Swing, Jazz and contemporary hits from Ricky Martin and Michael Buble, this spectacular show will have guests engaged and enthralled.