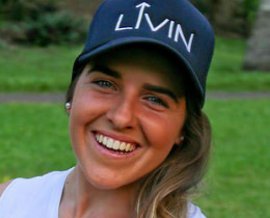 Travels From New South Wales
Northern Territory National Finalist for Young Australian of the Year 2017
Bridie Duggan, Northern Territory National Finalist for Young Australian of the Year 2017, is a prolific community supporter and volunteer who used her sadness and grief after losing a close friend to suicide, to rally support and awareness for people dealing with a range of mental health issues.
Her desire to assist and support has seen Bridie utilises the energy she has in abundance. Her need to make a difference saw her volunteer tirelessly in a range of roles from football club strapper to working with children with autism. With her drive and determination, she has raised more than $27,000 for LIVIN, a community based organisation that works tirelessly to raise awareness and crush the stigma associated with mental health.
Currently working towards her Masters in Physiotherapy, Bridie already has a degree in exercise and sports. Her passion lies in creating a healthy, balanced and positive life for everyone.