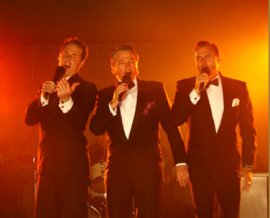 Travels From New South Wales
Entertaining corporate and concert audiences across the globe
Now in their tenth year of performing, The Rat Pack's Back continues to entertain corporate and concert audiences across the globe.
Combining some of Australia's and the UK's brightest talents, the three performers sing and dance, delighting audiences with their renditions of songs made famous by Frank Sinatra, Dean Martin and Sammy Davis Jnr.
With the ability to adapt to suit any event, The Rat Pack's Back offer an exciting addition and recreate the sound of the Big band era on today's musical scene.